We'll start with the quote from Lord Acton that everyone knows: "Power corrupts, and absolute power corrupts absolutely."
Followed up with a lesser known quote from Lord Acton: "Freedom consists of the distribution of power and despotism consists of it's centralization."
Centralisation of power is almost always a bad thing. The Financial Market Supervision Act (FINMASA) in 2007 created a monopoly on regulatory "violence" in the form of FINMA.
There is little recourse in a dispute, apart from the Federal Administrative Court (Bundesverwaltungsgericht).
It is exceedingly difficult to fight anything out with FINMA in court the way it is done in the United States with the SEC.
Even getting FINMA to talk about anything they do not want to is next to impossible (due to the specific exclusion under the Freedom of Information Act, Art. 2, S. 3).
Then comes the implicit threat, if you are small, under the Cantonal bank level, should you raise your voice, upset the regulator, FINMA can and will put you out of business.
"Destroy" you and your livelihood, without a second thought.
The biggest issues are that the regulator has too much power, little restraint, too little industry know-how and too little oversight. FINMASA, in 2007, created a despot, with absolute power, and little oversight. The results of this we are increasingly seeing in the Swiss financial services marketplace.
The job of the regulator is to:
– Promulgate reasonably clear and sensible rulemaking;
– Examination of advisors against those rules;
– Enforcement for violations and infringement of those laws and rules.
FINMA does none of these properly.
Regulatory power in all financial services has been completely centralised. Even regulation of insurance and reinsurance was put into the remit of FINMA – which makes no sense whatsoever.
Banking and insurance are completely different industries and should be regulated separately. Investment management is also not banking.
Craziest of all, even health insurance regulation is under FINMA. Bad law, bad policy leads to destructive outcomes.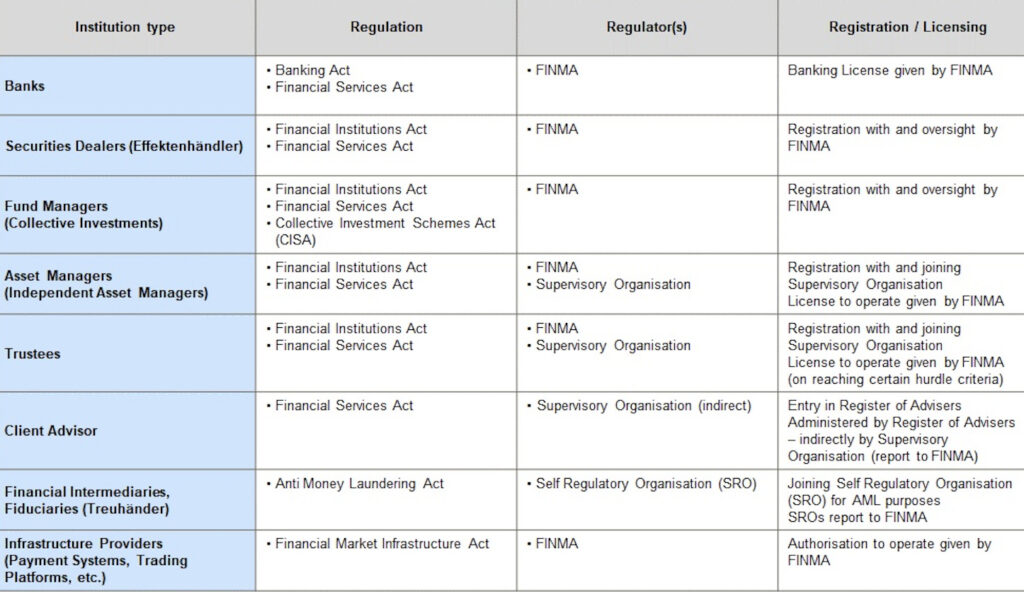 Everything is regulated by FINMA. Everything leads back to FINMA. FINMA has final authority over everything.
Complete centralization and absolute power rests in FINMA. Recourse is very limited.
Swiss Parliament is supposed to oversee FINMA, which in practice means little oversight or constraint. Swiss Parliament does not take much interest nor provide oversight.
With FINMASA of June 2007, Swiss Parliament created a form of financial industry regulatory "despotism".
Recourse. In the case of dispute with FINMA, the only body FINMA seems to have any respect for is the Federal Administrative Court (FAC) in St. Gallen (Bundesverwaltungsgericht (BVGer)).
Here, FINMA can lose.
It's pretty much the only place where it can lose. It will generally back down if a credible threat can be made of things heading to the FAC.
Result: FINMA avoids the FAC unless it is sure it will win. If you do not have the financial means, i.e., you can't pay to take a matter to the FAC, you are at the complete mercy of FINMA.
FINMA is aware of this and uses this power to intimidate and bully. FINMA uses its power to "threaten" participants, rarely explicitly, always politely, always worded in polite language.
Passive aggressive tactics are the usual approach. A common approach FINMA take to deal with someone they take a dislike to is to:
– make up a pretext;
– launch an investigation;
– "find" something;
– call in enforcement (or just keep "investigating");
– put that person/business out of business (the subject of the investigation is paying the costs for FINMAs "investigation" as well as their own costs).
Market participants are well aware of this, the result is they live in deadly fear of FINMA. Most of those not living in fear are on the FINMA payroll (The FINMA Mandataries).
Therefore very few people are willing to speak up, publicly criticise or call FINMA out publically on bad behaviour.
Because the consequences are "life" threatening. It is potential business suicide for a market participant to go on the record.
Zero upside (you can't win), "life" threatening downside (you can be put out of business).
To put the size of the problem into perspective, the Swiss Financial Services sector generates 10% of Swiss economic output, ie., it is 10% of the economy.
It directly employs 224'000 people (FTE), or one job in twenty. Add companies indirectly involved due to economic interdependencies, more than 430'000 jobs are linked to the financial sector.
Or one job in ten. It is major.
More if you count the impact on Health Services. At the top sits a regulator with absolute power, little restraint and very little accountability.
And looking less competent by the day.
Compounding the problem is the very limited judicial recourse available for market participants. I.e., it is damn hard to defend yourself in court.
How did this happen?
The root cause was the legislation put into place by a Swiss parliament which wanted centralisation of power and either did not understand the consequences or wanted them:
the Financial Market Supervision Act (FINMASA) of 2007.
This created an entity with absolute power. A "despot". Ignoring numerous warnings at the time and the known dangers with this approach.
Many of the destructive problems we are experiencing and having to deal with today in the Swiss financial services sector have their root cause in this act.
Laws, like parenting, matter.
The culture within FINMA has become "toxic". So much that even the head of FINMA is not immune.
Recommendations, for a start. Just to try to put a semi-functional system into place:
1. Break FINMA up into its functional units – Decentralise FINMA:
Separate out the functional units of FINMA into independent, autonomous entities, each of which administers and regulates part of the market; banking, insurance, asset management, funds, etc.
2. Make FINMA subject to the courts. Not just the Federal Administrative Court
Make it possible to argue issues out with FINMA in court.
3. Make FINMA pay for investigations instead of forcing participants to pay for FINMA's costs plus their own.
This is huge and a scandal. Participants should not be paying for FINMA to investigate them when no wrongdong has been proven. This violates directly the principle of presumption of innocence.
4. Fire anyone with more than ten years at FINMA
If they have been there more than ten years, get them out. They are with high probability either useless or value destroying – i.e., doing more harm than good.
The author is a regulatory practioner with over twenty years experience.